40w shs solar solutions
Features of 40w shs solar solutions
* shs solar solutions/ Instalment solar system
* Time clock/ Date calendar/ Charging voltage & current
* FM Radio/ Bluetooth/ Headset/ Music play
* Laptop charging
* Load DC fan/ DC TV
* Home lighting max 6 rooms
* Mobile charger: Auto detection current for mobile
* Charging by solar panel or adapter from electricity
* Over charge/ Over discharge/ Over current/ short circuit protections


How to work:
This shs solar solutions, it will benefit for you and people. When a costomer needs the solar sytem for home lighting, mobile charging, or radio, calendar, and he wants to pay step by step. He can pay for a certain time regularly such as 5 days, 15 days, 30 days. This Pay-As-You-Go solar system help you to achieve this purpose. You can also cancel this function if you want it when the customer pays you completely. Simple and easy to operate.
What do you do?
Set up a charging center for your customers coming to top up for shs solar solutions
Design of 40w shs solar solutions: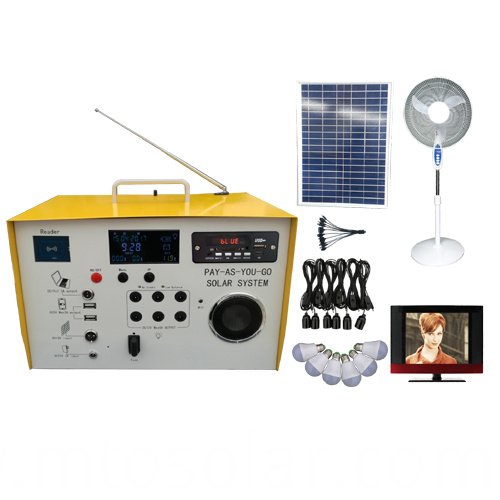 40w shs solar solutions is our new instalment solar system for people. People can use our prepaid solar system and pay step by step.
Contact for 40w shs solar solutions:
Manager: Rita Xie
whatsapp: +8613554898278
Product Categories : Pay-As-You-Go solar systems