Patented Pay As You Go Solar Home Systems released
Congratulation! With our engineers efforts of half of a year to develop and test, we are now pleased to announce that our company can manufacture and export the PAYGO solar home systems.
The features of this Pay As You Go solar home system, namely PAYG solar home system are as following:
a. It is paid by installment: With the days going, more and more people are preferring to pay for a product step by step, and they can have money on other things, it also can release them from the pressure of payment for one whole system at one time.
b. It meets the common requirement for people life: Home lighting 6-8 rooms, mobile charger, power for fan and TV.
c. We also make the advantages of adding more features: Radio, bluetooth, headset, music play from MP3, SD card, U flash disk.
d. Another important feature: LCD screen used as Time clock, calendar. Directly understanding of charging voltage and current, battery power status.
e. The last important feature: LAPTOP charging
Pictures of our systems: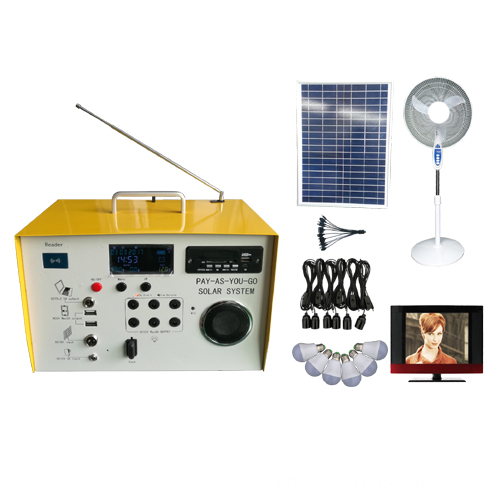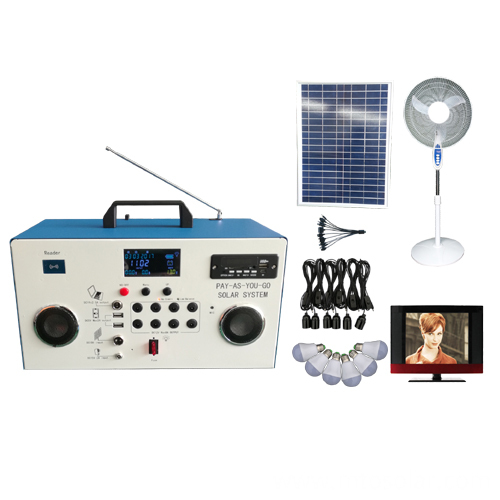 And now we are ready to have partners with the clients who are willing to have the market of Pay-As-You-Go solar systems.
Sales manager responsible for PAYGO solar home systems:
Skype: ritatse2008 Whatsapp: +86 13554898278 Wechat: x529709590
T: 86-75529058692 F: 86-75529058636 M: 86-13554898278
Add: 6 Building, Donglian Industrial Zone, Kengzi Road, Pingshan New District, Shenzhen, China 518122
Mindtech Optoelectronic Limited.